Georgia Brown

The Duchess of Cornwall is approaching her 75th birthday and to mark the occasion, she surprised the royal family with a spectacular birthday cake topped with lifelike fondant characters and piping icing.

As her 75th birthday approached, Duchess of Cornwall was invited to a special lunch at the National Liberal Club on Tuesday, hosted by Gyles Brandrath and The Oldie Magazine.
MORE: Secret Items Hidden Inside The Queen's Wedding Cake & More Charming Royal Cake Facts
Cakes are an integral part of birthday celebrations. adams cake It was truly a royal masterpiece! Crafted from decadent sponge and layered with lustrous royal icing. prince charles It was pictured cutting into her surprise sweet treats.
Watch: The Most Impressive Royal Wedding Cakes Ever
The cake was topped with a royal crest piped in colorful buttercream, a large '75' adorned the sides in blue and gold fondant, and coordinating ribbons adorning the tiers.
The Duchess' beloved Jack Russell terriers, Bess and Bluebell, are crafted in fondant icing and placed at the bottom of striking baked goods, along with colorful book and gardening motifs – two favorite hobbies of the royal family. I was.
Look: Duchess Camilla's cake recipe has a surprising secret ingredient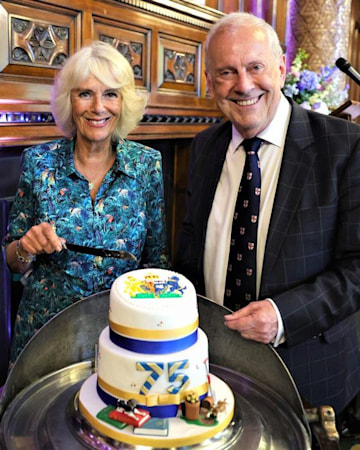 Royal fans flooded the comments on the post shared by Claren House's official Instagram and were quick to react to the amazing baking.
One fan wrote, "What an amazing cake," while another wrote:
Look: The royal family's favorite takeout is so amazing.
See also: Duchess Kate and Prince William's school night dinner for their three children is so intimate
"Happy birthday, Her Highness Camilla. What a wonderful cake!" A third fan agreed. The luncheon also paid tribute to notable people who continue to serve, contribute and perform well into their 70's, 80's and 90's.
Writers, actors, entertainers, scientists, sports celebrities, poets and philanthropists in attendance read poems in honor of the Queen by Roger McGuff and by Mrs. Penelope Keith.
Duchess Camilla posted on Instagram, "Thank you so much for all the happy returns. Enjoy your @royalhospitalchelsea cake!" The royal family shares sweets with many members of the royal family and even likes to bake their own bread!
In support of the Poetry Together initiative, Camila previously provided her personal recipe for the classic Victoria sponge cake, specifically for the Poetry Together Tea Party.
The royal family's personal Victoria sponge recipe replaces the jam with lemon curd or Nutella. looks delicious…
do you like this story? Sign up for our HELLO! Email our newsletter to get more articles like this delivered straight to your inbox.