In 2021, the Bitsy Bar, a vintage three-wheeled Italian Ape Car Bar that has been restored and tricked out, will debut in Milwaukee. Now owners Joey and Sam his Pashke have added his second vehicle to the line-up.
In keeping with the theme, this is a converted 1960s all-electric Italian Vespa scooter with a two-tap system in the sidecar. Like its predecessor, it was imported from Barcelona.
In addition to the Draft system, the Vespa has Bluetooth Marshall speakers that let you play music from your phone or laptop.
Again, like the Ape car (named Daisy), Paschkes believes this car (named Duke) was the first in Wisconsin.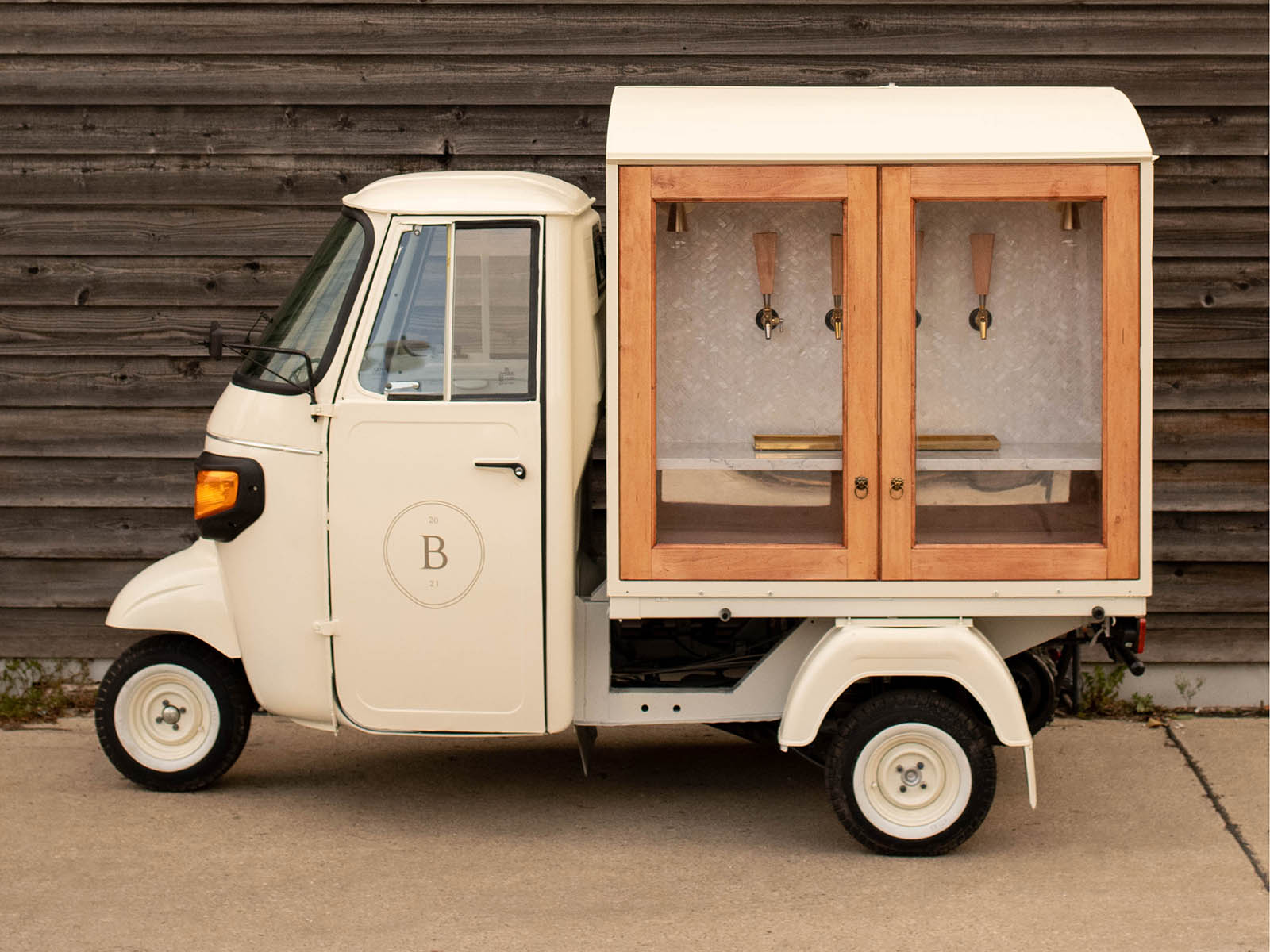 Joey says The Bitsy Bar's first year of operation was a success.
"Things are going well," he says. "It's been a great first year and definitely a busy summer/fall for us.
"There has been a learning curve, but it's been a lot of fun celebrating with all our clients and making their special day a reality while letting people know about this new option available to them at their event."
According to Paschke, The Bitsy Bar has been used for weddings, bridal showers, children's birthday parties, graduation parties, receptions, and corporate events from downtown Milwaukee to Lake Geneva.
"We also used both Ape Truck and 'Vesbar' at the Vince Lombardi Charity Foundation Wine and Dine event at The Pfister hotel, featuring many local breweries such as Lion's Tail, Mobcraft, Lakefront and Titletown. From breweries to coffee shops to kombucha to cocktails, it's been a lot of fun building connections with local businesses."
Paschke says Daisy is smaller, but Duke is more capable and can handle smaller spaces and more intimate events, giving event planners more flexibility.
"With double doors, we can get inside so that we can work for indoor events during the winter," Paschke says. "While the truck may be a bit bulky for in-car use, the scooter is fully electric and still drivable, making it easy to navigate through the double doors to the event venue."
Despite its small size and just two taps, the Duke isn't limited to beer.
"You can serve anything: kegs, prosecco, cold brew, beer, wine, cocktails, mocktails, teas, lemonades, even milk. This was served at a 1st birthday party. Coffee for adults!
The Bitsy Bar is currently gearing up with Daisy and Duke's gigs, which can be rented together as a combo package. Chevelo!