Once upon a time, children brought a pile of handwritten invitations to school and handed them out to their classmates to prepare for their birthday party. These days, parents and guardians have even more options when it comes to creating and distributing birthday invitations for their children. From fully custom printed designs to digital-only invitations that are delivered and tracked electronically.
Looking for that perfect bash inspiration? Our list of digital and print options includes all kinds of kids birthday party invitation ideas, no matter your budget or your child's age or style. I'm here.
custom printed kids birthday invitations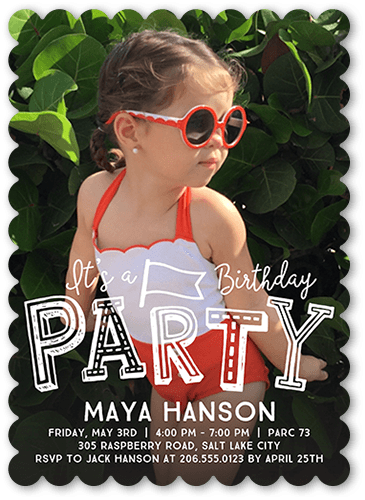 photo birthday invitations
Your child is the star of this custom printed invitation featuring a full-bleed photo overlaid with relevant information.
To buy: Starting at $1.34 at Shutterfly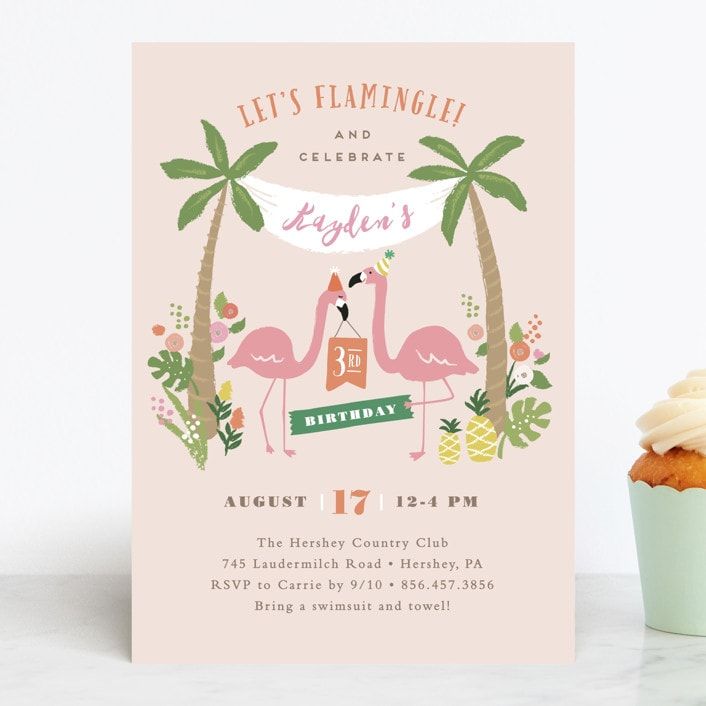 flamingo birthday invitation
These cheerful, tropical invitations have fun with flamingo wordplay. It's perfect for summer bashes and parties to set the mood.
Starting at $1.81 each on Minted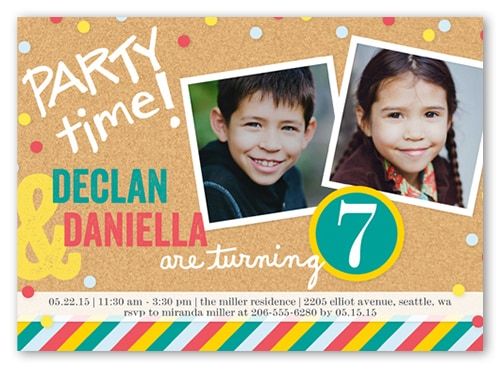 twin birthday invitations
Celebrate your twins' big day with these bulletin board inspired birthday invitations.
From $1.08 each with Shutterfly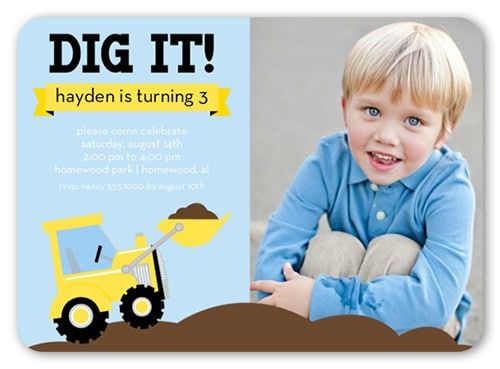 truck birthday invitation
Dig it! These truck themed party invitations have a cute construction site theme for little ones.
To buy: From $1.30 each on Shutterfly
animal birthday invitations
A variety of safari animals are ready to party around this cute invitation.
To buy: from Zazzle starting at $2.38
Fill out a child's birthday invitation
mermaid party invitation
This undersea-inspired set of 24 invitations is fancy with pearlescent paper, ribbon closures, and even stickers to seal.To buy: $18.99 on Amazon
rainbow birthday invitation
A set of 20 invitations and 20 envelopes with a cheerful rainbow motif.To buy: $13.69 on Amazon
video gamer birthday invitation
This invitation set is perfect for gamers. Includes 30 game controller themed invitations and envelopes.To buy: $13.99 on Amazon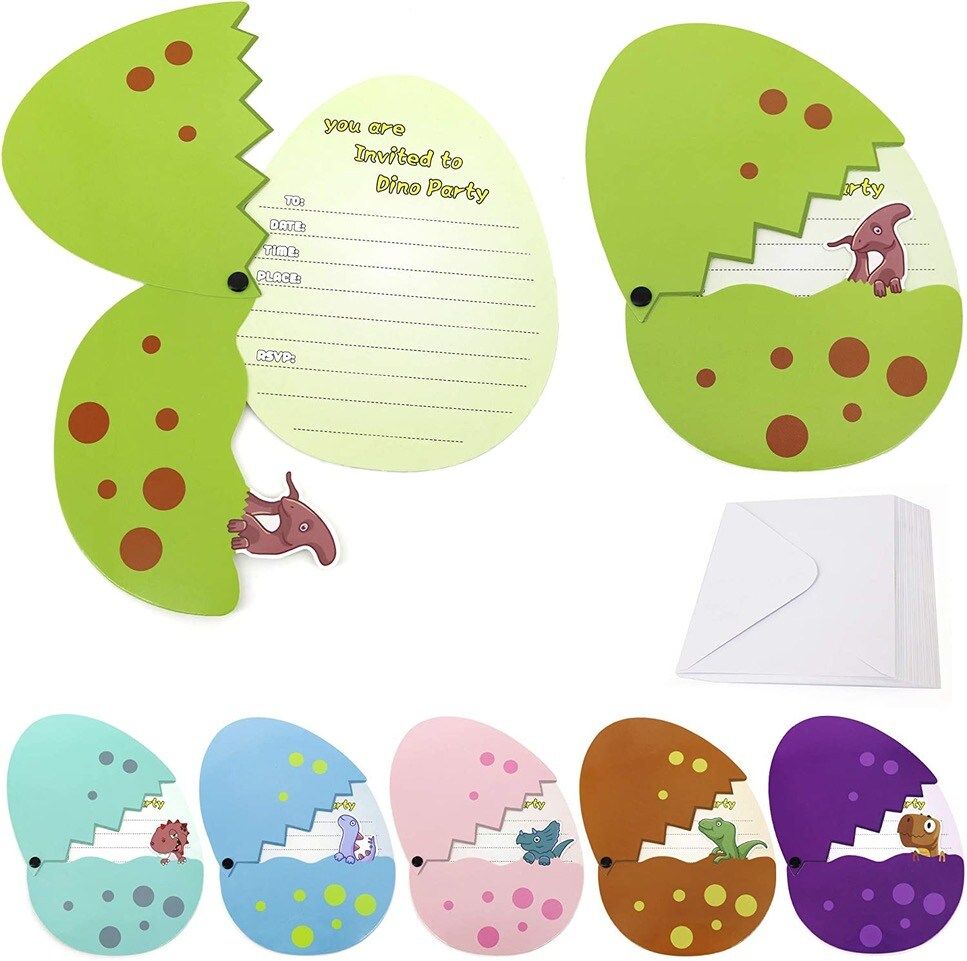 dinosaur birthday invitation
These charming dinosaur-themed invitations fit in 6 uniquely colored dinosaur egg-style sleeves. Each set contains 18 invitations and envelopes.To buy: $16.99 on Amazon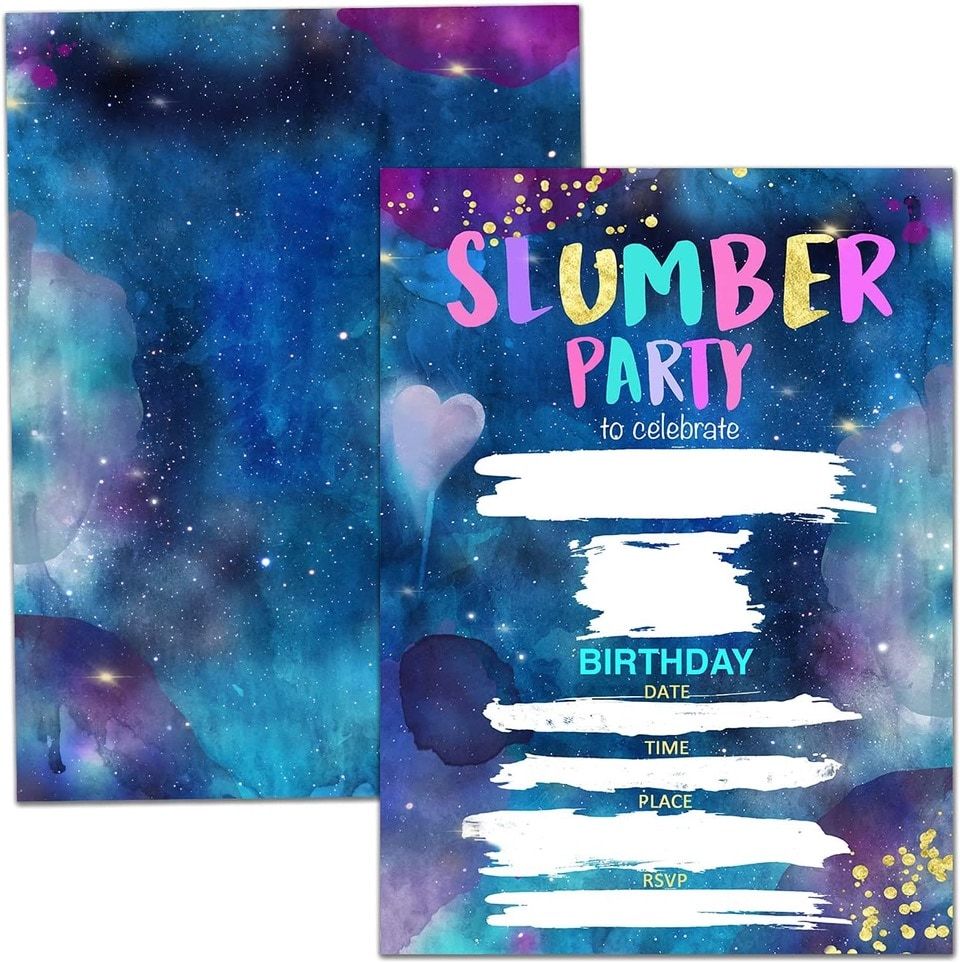 pajama party invitation
This vibrant, celestial-inspired invitation is perfect for a slumber party at home. Each set contains 20 cards and 20 envelopes.
To buy: $12.59 on Amazon
free digital kids birthday invitations
disney party invitations
Celebrate your special day in Disney movie style.this Encanto-Themed digital invitations also have space for photos.To create: Free at Punchbowl

Comic party invitation
This fully customizable digital party invitation delivers comic strips. Perfect for fans of graphic novels and comics.How to Create: Free with Evite
emoji party invitation
Bright emoji themes are perfect for different ages, genders and personality types.How to Create: Free with Evite
ice cream party invitation
This understated invitation is fun for kids and elegant enough for adults' more sophisticated tastes.
cool patch invitations
A collection of vibrant and trendy motifs such as avocados, lightning bolts, balloons, unicorns, pineapples and cacti are scattered across these colorful digital invitations.How to Create: Free with Evite